An Altar is an elevated place or structure, as a mound or platform, at which religious rites are performed or on which offerings are made to gods, ancestors, etc.
Altars are as every bit unique as a person is. They can reflect both our spirituality and our personality. It can become our sacred space where we leave the mundane behind to create something magickal. But it also is a key place of worship for our Deities as well as our Ancestors. That being said, there are some different types of altars and shrines. An altar is generally for any magickal workings, the space a witch sets up for an Esbat, Sabbat, Rituals or permanently for all sorts of practices (examples: divination, meditation, etc.). It is the place for transformational change. In contrast, a shrine serves to honour a person, deity, or concept. Offerings and prayers may be given here. People tend to create shrines after a passing or tragedy as well. It is more of a place to connect rather than to do magick. There are many items you can place on your altar; just remember there is no right or wrong items to include!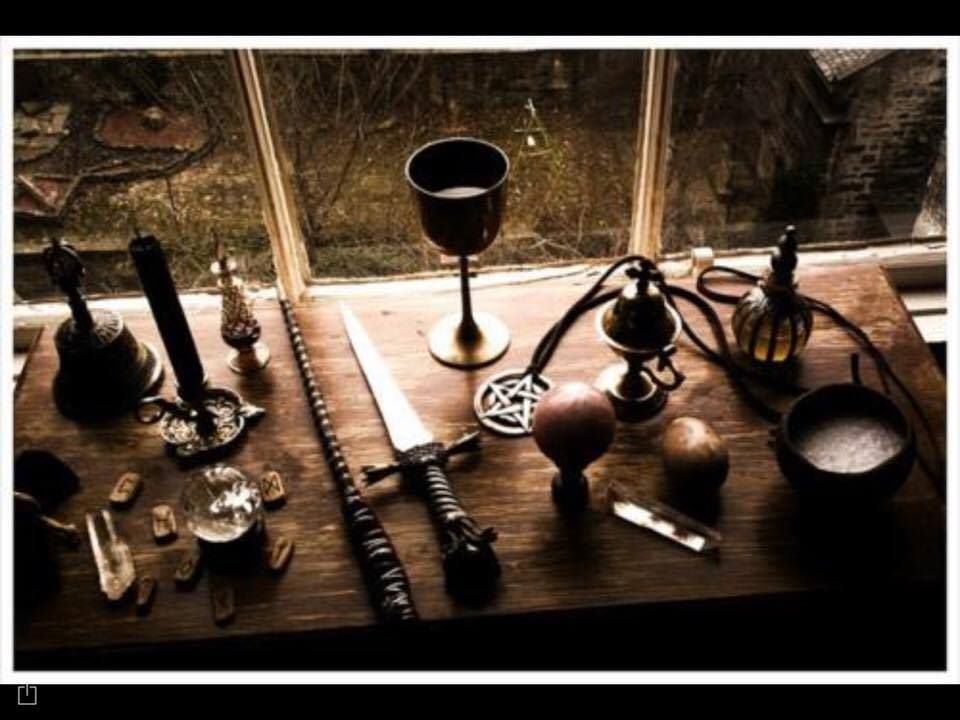 The Elements

Most noted in witchcraft, Wicca and other occult magick, the four natural elements, Earth, Air, Fire and Water are commonly represented on an altar. A common example would be; dirt or salt to represent the element of earth, a feather or incense to represent the element of air, a candle to represent the element of fire and a dish of water to represent the element of water. The placement of these representations of the elements varies depending on traditions and personal preference. In some traditions It is customary to have the altar facing North as this direction symbolizes stability and focus. There are however people that choose to face the other directions. There are also times when a witch could change the direction the altar faces dependent upon the working being performed. An example of which would be during a funerary ritual in which the altar could face West which is the direction of death and rebirth. Another example would be for a "wiccaning" or the blessing of a newborn child. In this case the direction of the altar would commonly be East because this direction represents new beginnings. Again, all this is dependent on your path and your situation or space limitations.

Divination / Tools

If you practice divination, you may decide to add your divinatory tools to your altar such as runes, crystal ball(s), oracle and/or tarot cards, etc. Adding one oracle or tarot card (or more) to your altar can be used for magickal and/or meditative purposes. If you are new to magick, don't get caught up in the belief that you have to have every magickal prop or tool on your altar for it to be complete. Tools are great to have, but many of them can be substituted with what you already have at home and in your garden.

Nature

Adding things from nature to your altar can help you connect to the land around you, get to know your surroundings, the land and the environment in which you live. As the seasons change, bring items from outside to your altar to reflect the turning of the wheel. Branches, leaves, acorns, flowers, stones, rocks, snow and rain are just a few things that you can add to your altar that cost nothing! Popular for altars are crystals to add and amplify the energy of your altar. If you have a big enough altar, you can create crystal grids for certain workings. If you design an altar to be a working altar, where spells and magickal workings are done, instead of an altar for only honouring and devotion, you will find that the altar will get dirty. There most probably will be candle wax on it and if you work with powders and/or oils, it's going to get messy! If your altar is a working altar, like mentioned before, whenever you feel the need to rearrange and clean your altar is up to you. Cleaning your altar on the new or full moon can be a good way to remember, if you want to regularly attend to cleaning your altar and preparing it for the next moon cycle or month.